The Contemporary Craft Festival, Bovey Tracey 2016

As we tear through 2016 at a terrifying pace, Summer has arrived bringing the sun with it and, together, they've seen fit to provide us with a large slice of sun pie normally reserved for somewhere south of the Med.
At the time of writing however, the clouds have rolled in to crash the party, sending the sun packing with its tail between its legs back to the Med. But, the month of June has not been without its treats so far, seeing this year's annual Contemporary Craft Festival, once again, roll into Bovey Tracey.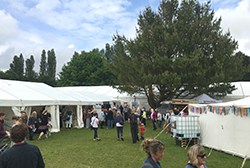 I have to admit to having a bit of a soft spot for this particular festival. It's small enough to feel—well, small—and local, but big enough for it to be a proper summer event and draw the masses through the gates.
Twice winners of the prestigious Visit Devon Tourism Award in 2014 and 2015, this annual gathering of crafty types is making its 12th appearance in 2016, and it's bigger and better than ever. My money's on them making it a hat-trick of gongs this year—we'll find out in the coming months.
I'm not quite sure how I've managed to unwittingly avoid the festival for so long, with Bovey Tracey being only a few miles down the road. After my first time at last year's event in the unusually fierce June heat, it's an obvious must visit for anyone with even a passing interest in contemporary arts & crafts. And if you're an exhibitor, it should be the first festival on your list to get a stand booked.
Setting their stall out early, so to speak, festival organisers announced this year's highlight—bringing in the four finalists of the BBC's recent Great Pottery Throw Down series. Much love surrounds these four ceramic champs and with the country riding high on the pottery zeitgeist, it was a well timed boon getting them on board.
So, as a casual observer and crafts festival goer, what were my highlights?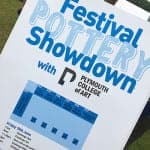 Festival Pottery Showdown
Yes – getting the …Throw Down series finalists on board wasn't just a marketing ploy. They were getting their hands dirty all weekend too. In their own Showdown tent, they took it to the people, challenging anyone who could live with the humiliation of potting against near perfection. They never won of course, but Sally-Jo, Tom, Matt and Jim took it all in their stride. Oh, and they were all selling their own wares as well, natch.
Food & Drink
A huge array of food and drink is always a bonus at these outdoor bashes and, arriving bang on 12.30pm, my first task was to dive in and see what I could devour. Just a massive choice, as always, from wood fired pizza, falafels and curries to crepes, pulled pork and the mighty hog roast! Sometimes your choice is defined by the length of the ever present queue, but that's just a measure of how good it all is. Swilled down by some rather lovely local ales, if you could find an empty seat, you could have quite easily done nothing else all day. Oh, and did anyone mention ice cream??
The Exhibitors
Of course – the one thing that makes it all possible in the first place. Over 200 of them showing and selling their work across 4, very warm, marquees. Obviously WAY too many to mention, but a seething hotbed of creativity, make no mistake. Some of the plucky lot have travelled many hours and miles to exhibit, as Bovey marks the latest stop on a summer long tour of festivals like this up and down the country.
5 personal faves this year included:
Jin Eui Kim: A ceramic artist with such precision, it defies logic.
[Vinegar & Brown Paper]: Ideas etched in glass. Simple, effective and pretty bloody marvellous.
Boop Design: Simple illustrations on handmade porcelain bottle vases – think rural vintage chic.
Jack Laverick Ceramics: Porcelain geometric planters and holders with great colours and finishes.
Walsh Glass Designs: Very cool and colourful glassware.
Of the exhibitors that I met and spoke with, they were so humble and, despite it being a gruelling week of very hard graft, always willing to talk about their work and personal stories.
It's amazing to see so many people who are just doing what they love and making a living from it. From my point of view, that in itself, as well as their work, is as inspiring as it gets.
So, just under a year until next year's festival. No pressure then!
Published by Graeme on 12 June 2016