Is your personality your business card?
It's been a busy few weeks here at DropCapCopy and I'm relishing copywriting for all sorts of different people, businesses and products. Writing for all these great people and products is the best part of the job, but getting them to use my services over someone else is the biggest challenge.
Trying to build up a client base is never the easiest of things to do and it takes time. Lots of time. Using social media to increase awareness of my brand has been invaluable in spreading the word*. A lot of people see Twitter and Facebook purely as social outlets. Great for staying in touch with friends or using as a fast track complaints avenue, but, like it or not, nowadays they're crucial in forging relationships in business.
Though I have my Facebook and Instagram pages, I mainly use my @DropCapCopy Twitter account to stay in touch and offer my copywriting services. A great way I found to interact with local and national businesses, was to use one of the many Twitter #Hashtag Hours, where people group around a hashtag at certain hours of the week (#DevonHour for example which runs every Wednesday evening from 8.00 – 9.00pm).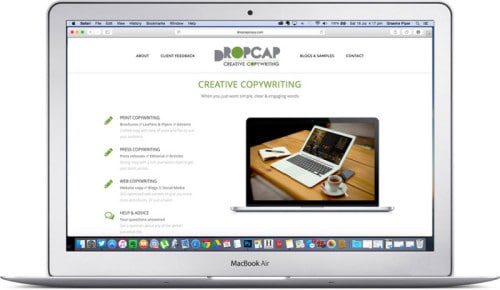 All this interaction can result in 'likes' and 'retweets' that all help to promote my brand, get more followers, more clicks through to the dropcapcopy.com website and get my name out there.
Unfortunately, there's no guarantee that everyone will immediately start contacting me to write their marketing material. Sometimes people simply don't need my services at that point, but if my branding is good enough and I come across as an all round good egg (which I definitely am, by the way), it will hopefully be enough to stick in people's mind and they'll think of me when they do need someone to write for them. That's the plan anyway.
Of course, using social media shouldn't be relied upon for doing all the work. It's a good starting point, but you should only use it to get so far. Nothing can beat an actual, face to face meeting with any new client. That way, you really get to know the product you're dealing with and, ultimately, the person who will be paying you. It works the other way too – potential clients have already looked at your website and probably some of your work, now they'll see just who you are, how you come across and whether they'd like to work with you.
I saw a great quote the other day by an author called Jay Danzie. No, me neither, but he did come up with this choice little soundbite:
"Your smile is your logo, your personality is your business card,
how you leave others feeling after having an experience with you becomes your trademark"
A bit on the twee side, I must admit, but it gets the point across that your branding and online presence may be up to scratch, your work may be pretty darn good too, but first impressions do count and it's your personality that can bag you a new client.
* Why not use the 'share' buttons below to do your bit to help spread the word?
Published by Graeme on 18 July 2015