Client: Made With Maturity – Web & Marketing Agency, Plymouth
Brief: Web copywriting for major website relaunch
When: March 2016
www.theminersarmspub.co.uk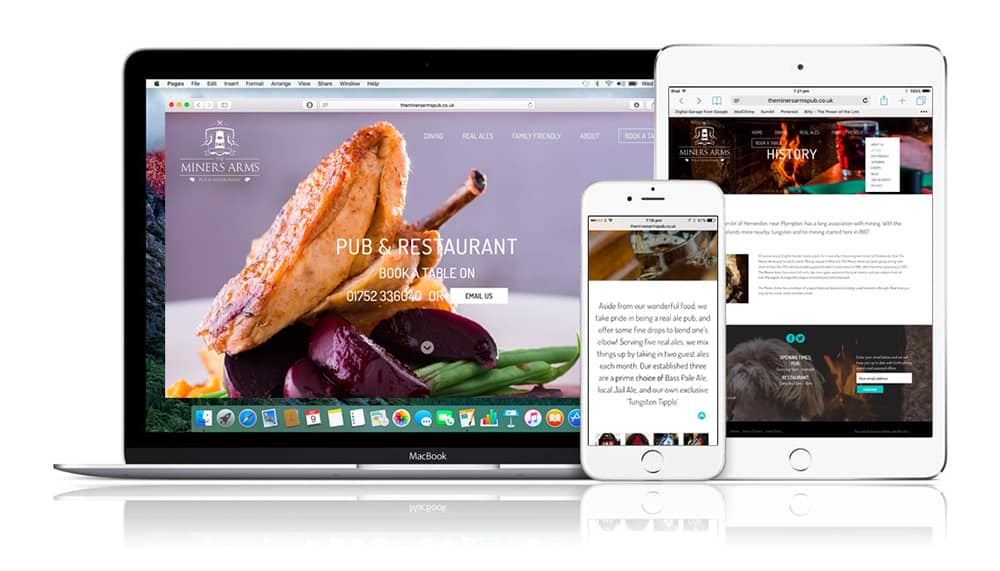 "We recently contracted DropCapCopy to work on a client project with us. Graeme was a delight to work with. He responded quickly, produced a high quality set of copy, and maintained active communication with us throughout. We were impressed with Graeme's copywriting skills and will be working with DropCapCopy again on future projects."
Ben & Clare Stirling, Made With Maturity ~ Web Design & Marketing Specialists.
Part of the appeal of being a freelance copywriter is the almost endless list of topics you get to write about. I think it's one of the most compelling arguments for going freelance. The work is varied and interesting—never a dull moment as they say. And workflows and project lists get all the more interesting when you land a web copywriting gig with an agency.
---
In early 2016, I was fortunate to hook up with Ben & Clare Stirling at Made With Maturity (MwM), a web & Marketing Agency in Plymouth. One of the more recent projects offered to me was web copywriting for the 17th Century Plymouth Pub, The Miners Arms.
Project Background
The pub was undergoing a huge rebranding effort at the time and MwM had already done a lot of the leg work on a wider web and marketing schedule for the pub's owners.
Having her hands full with ad campaigns, social media and writing other news articles, Clare outsourced the web copywriting to me. Being the main project manager, she was my point of contact throughout the process while Ben designed and built the new site.
Among a flurry of emails, notes on the writing style and tone of voice came through to navigate the pub in a new direction. MwM also enlisted an SEO expert to research the market to ensure we were hitting the mark on various searches.
SEO information that's provided before the copy is written is such a bonus. It can cut writing time right down, as you know exactly what keywords are required to weave into the copy. All the while, keeping the copy in a natural and conversational style.
Research
For this project, I spent time exploring the history of the pub. Its humble beginnings, its importance to the community and the local miners, and its resurgence since the nearby mine reopened. All research to turn into words for the new website's History page. A nice touch was also having to find out more about the Pub's very own real ale – who said research was boring?
When completed, I sent the first draft to Clare for client approval. Then it was time to play the waiting game.
Second Draft and Home
When the project picked up a week or two later, Clare came back with just a handful of amendments. After her discussions with the client,  I needed to expand the information in a couple of key areas. And that included some copy in about the suitability for horse riders – a very important market!
This is the kind of thing that can happen on larger projects that are more ongoing than the quick turnaround jobs. Clients are prone to want to add, amend, or delete sections – it's all part of the process. In this case, we were fortunate to have nailed it about 90% right first time around. That's the benefit of a good brief!
With changes and tweaks complete, the second draft went back to Clare – and back to the client–for final approval.
Once I had confirmation of everything being OK, that was the end of the project for me. Of course, for MwM, they still had the wider marketing to take care of and the finalisation of the new website.
Conclusion
When the site went live in May 2016, I was pleased to see all my copy included in its entirety. Due to original briefs changing, there were a few amends in place since my copy was approved. But that's the nature of a longer project – things evolve.
Of course, there is copy on the site which I had no involvement in and was not in the brief brief. So all copy for News, Events, Job Vacancies and Policies are all written and updated on an ongoing basis between MwM and their client.
---
If you're looking to update your website with some whip smart words, or if you're an agency looking to outsource to a local copywriter to the same effect, get in touch today and let's have a chat.