Website & SEO Content : Grace & Favour Home
Brief: To update and refresh existing web copy
When: July 2015
www.graceandfavourhome.com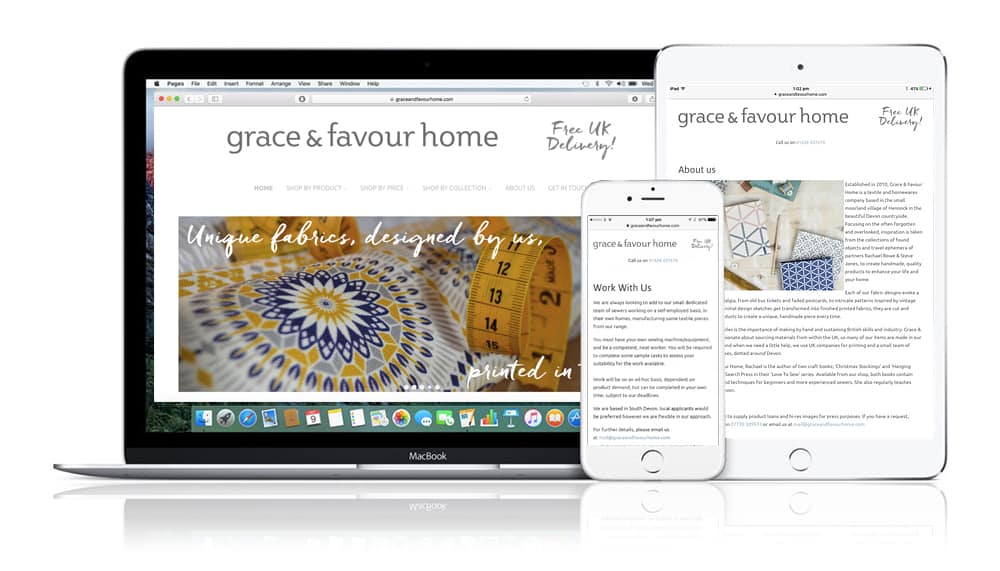 "DropCapCopy offered us a great service, with quick turnaround and pleasing results. Graeme was enthusiastic and really understood where we were coming from and what we wanted to achieve for our business. We would not hesitate to use his services again in the future!"
Rachael Rowe, Grace & Favour Home
Grace & Favour Home owners, Rachael and Steve, contacted me after deciding to give their personalised gifts and homewares website an update. They were getting some new photography for their handmade items and wanted to get the copy and content updated and refined at the same time.
After looking through their existing website, I saw that Rachael already had some well-written copy on there, so it wasn't necessary to have a complete overhaul, just enhance and add to what was currently there.
After a meeting with both Rachael and Steve, we agreed that I would edit and refine their existing words, plus add some extra copy into key pages where I felt we needed to expand and enhance certain areas.
Focusing on the Home and About Us pages initially, I edited and expanded the copy with chosen keywords for SEO purposes, while keeping a natural flow using a tone of voice that suited them and their target customers.
There was no need to add lots of unnecessary copy into other pages either. Instead, choosing to keep it all short and sweet and resulting in no more than a paragraph or two being added to any one page (other than the About Us page where we gave some background to the company).
Other pages lacked any copy at all, so to fix that, I added a few paragraphs that gave a brief introduction and included some of the keywords.
When the updated site went live, Rachael & Steve had slick, clutter-free pages that were home to simple and natural copy that also contained keywords required for better SEO.
If you're looking to get your website updated, see how I can help you. If you need to discuss your web requirements now, drop me an email!
Published by Graeme on 16 August 2015