Website & SEO Content : Oak Services Ltd
Brief: To provide all new SEO web copy for major website relaunch
When: October 2015
www.oak-services.co.uk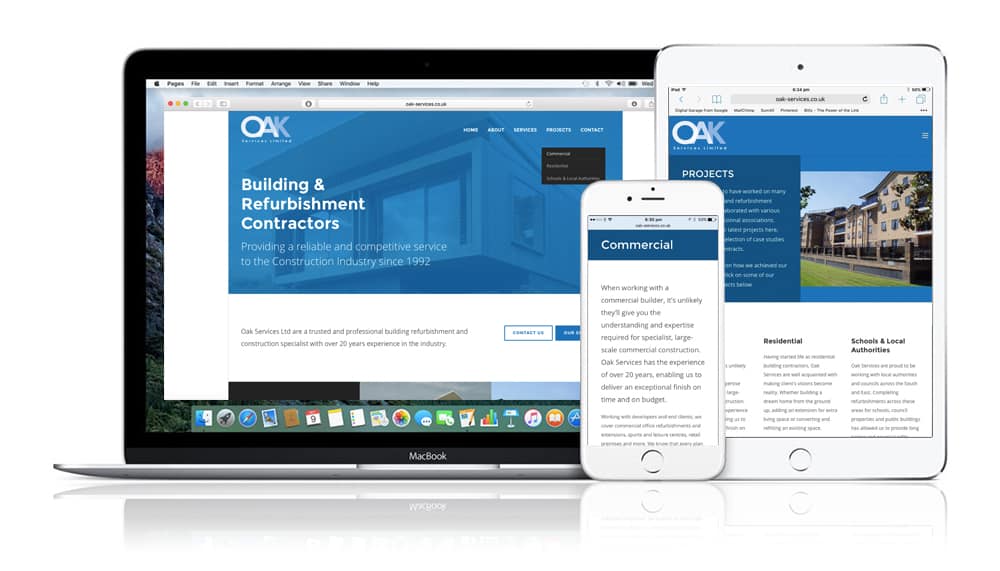 "Graeme's very obvious depth of experience, talent and professionalism was immediately apparent from first contact. His genuine concern of his clients' success comes across in his writing and we are very happy to now have a brand new website written specifically for our business. We would recommend DropCapCopy without reservation!"
Beverly Taylor, Oak Services Ltd.
---
Having known Beverly at Oak Services Ltd for many years, she first contacted me asking if I could do web design. While I'm used to copywriting for websites, building them is a different story! I made a few enquiries and put her in touch with a local web designer, Jamie Cottrell, who agreed to undertake Oak Services' new site design and build.
At the same time, I submitted my own proposal to take on the copywriting for the new site. Once accepted, I got to work on the research. The challenge of copywriting for Oak Services was an enjoyable one as it was an industry I was unfamiliar with: commercial building and refurbishment. That said, it was a great opportunity to supply copy for such a major site rebrand.
Of course, word counts on web pages can be somewhat open-ended. When copywriting independently from any designer, in the early stages it's difficult to know if the copy provided to them is too short or too long. As this project evolved however, supplementary pages got added to the original brief, which called for extra copy.
Several drafts were then tweaked and edited over the next few weeks by Beverly and me. At the final stage of approval, I was able to provide Jamie with the agreed copy to place into the main template of the new site so he could finish the site build.
Each page has new copy that has a natural flow and uses a tone of voice that is suitable for Oak Services' target audience. I also integrated the SEO keywords and phrases required to aid the site in getting a higher placement in Google search rankings.
This was quite a long project for all involved due to everyone's workloads at the time, especially Bev and Jamie. It got juggled around the priorities list a few times, so to see it finally go live was a pleasure for all of us!
---
Read more case studies…
If you're looking to get your website updated, see how I can help you. If you need to discuss your web requirements now, get in touch today!
Published by Graeme on 10 November 2015