Client: Pengersick Castle, Cornwall
Brief: To write all new web page and SEO content for major website launch
When: November 2016
www.pengersickcastle.com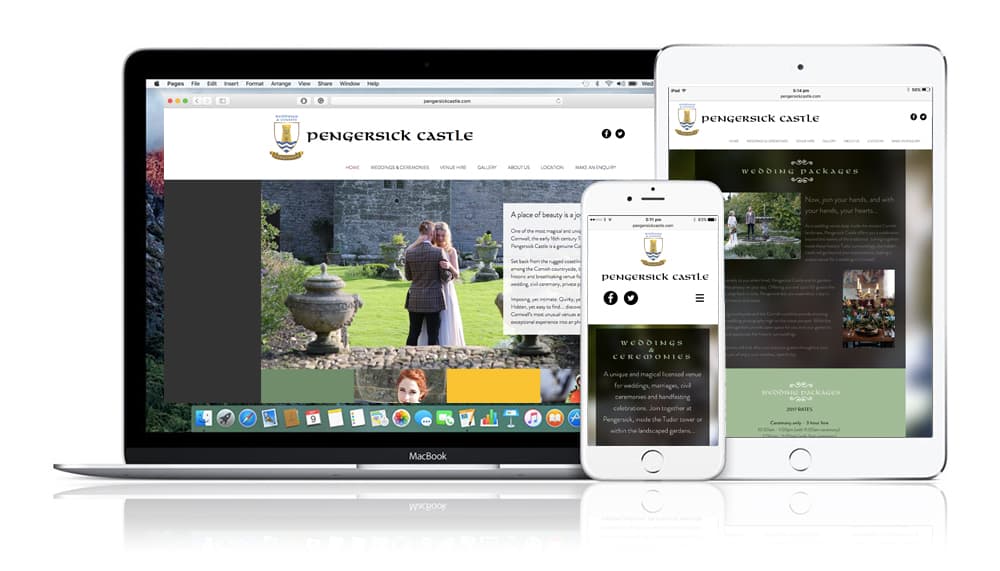 "Graeme was recommended to me by a colleague and I wasn't disappointed. In our initial meeting, it was clear he'd done his research and not only is he an excellent copywriter, but he gave us invaluable suggestions and feedback for the site. As a result, I'm already using Graeme for further projects!"
Jo Macaskie, Events Organiser ~ Pengersick Castle.
As a result of some good old networking, the initial contact for this particular job came through a mutual connection (who said networking doesn't pay?!). After meeting for a discussion and planning session with Jo from Pengersick Castle, we agreed on a deadline and a plan of action to take the first steps in launching this new venture.
---
Project background
Up to this point, Pengersick Castle itself was already a local place of interest. Situated near Penzance, it had been drawing visitors for the last few years and was a well-established tourist attraction. Yet, the owners realised they weren't maximising the potential of Pengersick. So, rethinking their strategy, they decided to leave the ad-hoc visitor tours behind to create a unique and historical wedding and events venue.
Among many other things for the venue, there was the small task of getting a brand new website completed and ready for launch by the end of the year. This is where DropCapCopy came in.
Research
I realised that research for the project would be divided into several stages. Looking into the history and backstory of the Castle itself was stage one. Much to my surprise, there wasn't as much information out there about the Castle as I thought, but enough to give me the historical facts. The research for the wedding and event venues market was stage two. And the SEO keyword research added the final stage, so I had an interesting road ahead of me.
Getting the right SEO keywords involved using Google's keyword planner. I was able to drill down to the relevant terms and phrases that were right for the venue and add them throughout. Going through this process can be a long-winded task, but well worth it and essential for any site.
First drafts and approval
As I was working on the first draft, it struck me that we needed more information on the site that wasn't in the original brief. After a couple of conversations, Jo and I agreed that I'd write a 'Contact Us' page that would include full contact info and detailed directions to the venue. I also created an 'About Us' page where we could include some historical info about the venue itself.
As with most web projects, the copywriting of all the content is only one aspect to consider. Jo had a lot on her plate, pulling together photography, suppliers and working with the very capable web design team. On top of that, she was looking after other clients and juggling various projects. This highlights another area where I help clients – I have the time to study the site throughout (as a third party), consider the end user experience and highlight areas where improvements can be made and pages added. Of course, more pages are good for SEO as well.
After the first draft of web copy came back with a few amendments, the second draft got approval and we forwarded the final copy to the web team. Once they had the copy, they started pulling the site together. Jo and I were sent the log-in details so we could see the site evolving. This was really helpful for me, as I could read the copy in its proper context, see how it looked, fitted and read. It also gave me the chance to tweak the copy where necessary and improve its structure and readability.
And we're live
So, with only a couple of delays, the final site went live in early January 2017. Only a few weeks behind schedule, but it's important that all the content is right and that everyone's happy with the look and feel before it does go live. I'm pleased that my web copy got approval in its entirety as well. Jo added some extra info to the site for the 'Wedding Contacts', 'FAQ's' and 'Places To Stay' pages where she was better placed to provide local information for guests.
---
Read more case studies…
If you're thinking about creating a website for your business, spare a thought for your content. Having a well-designed site that does everything you and your clients need it to do, is only half the story. By having fresh, well-written content with SEO keywords and phrases included, new clients will find you quicker and easier. To find out more, drop me an email and let's have a chat!