Client: South West Laundry Solutions
Brief: All new website page content
When: June 2017
www.swlaundrysolutions.co.uk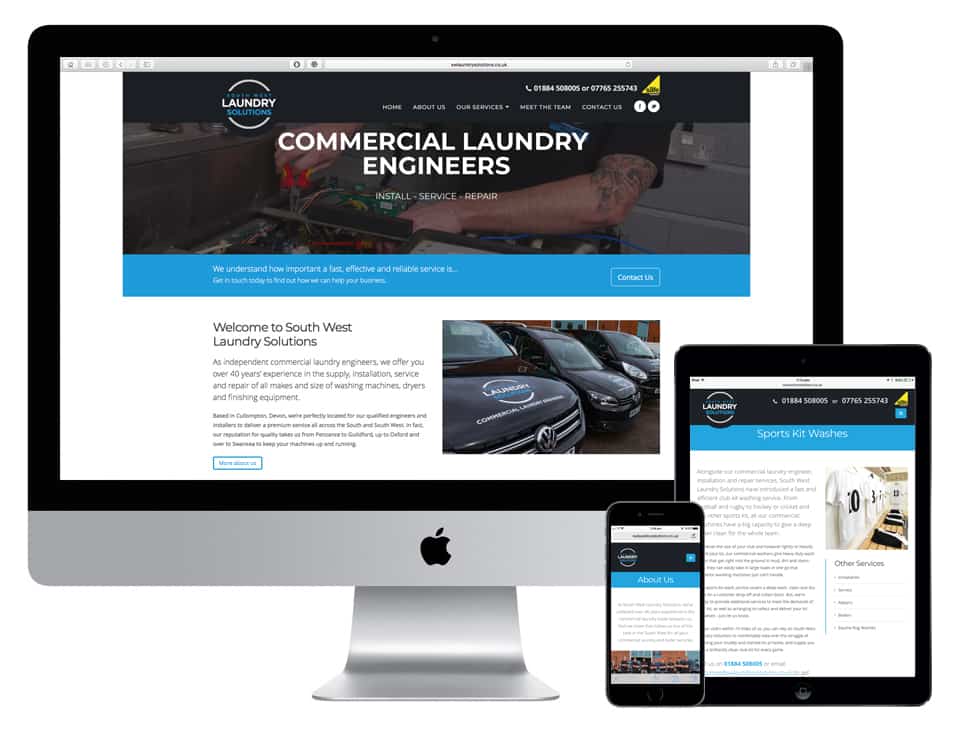 "With a quick response after the initial contact, we met and discussed my website requirements. Graeme then did further research and delivered the copy that we required. Since the website was relaunched, we've had an increase in enquiries."
Patrick Coombe | Director ~ South West Laundry Solutions
---
After building up his business for the last few years, Patrick Coombe, Director at South West Laundry Solutions, knew that the content on his website needed updating, refreshing and expanding. The realisation that much of the limited content repeated from page to page, plus, his service offering was now growing, meant that the site needed new copy across the board.
The brief
Meeting with Patrick back in May '17, it was clear that he realised the need to take his website forward. Often clients aren't sure what to do, but Patrick was. He knew the three beneficial copywriting factors. A) there currently wasn't enough content. B) the content was the same (for the most part) from page to page. C) he needed new content to show his expanding services.
It was also great to see that he knew how important it was to engage with his existing customers as well as new ones. And the addition of a new 'meet the team' page really helped get that across.
So the full brief kind of wrote itself: all new written content for six existing pages, plus four new pages. All of which should be customer focused with clear and engaging words with calls to actions throughout. And not forgetting the all important meta descriptions so important for SEO and Google searches!
The project
With every straightforward brief, there's usually a straightforward project. Happily, this was the case with South West Laundry Solutions. Patrick provided me with all the info I needed for the new services he was offering, as well as info for each team member bio. More importantly, knowing that he wanted the project done right, he gave me the time to get the copy done without rushing it.
With no real deadline in place, it allowed proper research time and the time to review my own words, making sure everything was correct for that first draft. With only a couple of minor amendments (changes in offerings rather than errors I'm happy to say), we wrapped up the second draft soon after. Following full approval, I sent the copy to web designer Jamie Cottrell (who worked on the original site and was now adding the extra pages and features to the revised version) for him to put in place.
And we're live…
It's a real bonus working with a good web designer who gives access to any new site before it goes live. This is invaluable for seeing the content in situ. Seeing how it reads when placed and to see if it needs more or less copy. All looked good, but I had a quick chat with Jamie about some font sizes, weights, line breaks and links, and he was able to get them sorted immediately. Once we were both happy, it was over to Patrick for final approval.
After a few months of going live, it's great to see the site appearing on page 1 of the Google search results for the SEO that I incorporated into the copy.
---
Read more case studies…
When your website could benefit from some fresh, up to date and reinvigorated copy, drop me an email and get in touch or hit the green 'Live Chat' button in the corner.