Client: Plymouth Charity Trust // Brand Biscuit Studio
Project: Charity copywriting for website and digital marketing
When: Spring 2022
Website: www.plymouthcharitytrust.org.uk

Plymouth Charity Trust is a well-established housing charity that supports local families and offers sanctuary and affordable housing to those that need it most. Working with branding and design studio, Brand Biscuit, I wrote charity copywriting for an important section of the refreshed and rebranded website.
---
Charity Copywriting Project Background
Plymouth Charity Trust (PCT) has a rich, 400-year history of helping Plymouth-based people. With residential housing in the heart of the city, they provide safe, independent living for the most vulnerable. Though they had a website already in place, they chose to work with Brand Biscuit to create a new brand concept. This would run through a new website and all their online and offline marketing. And it was Brand Biscuit who asked me to write empathetic and inspirational charity copywriting for the Trust's four values.
The Trust's foundations
While the design and rebranding work was going on behind the scenes, the team used most of the content that appeared on the previous site. But the one page PCT needed help with was a new page detailing the organisation's four foundational pillars of:
1. Independence
2. Community
3. Sanctuary
4. Stability
Each statement needed no more than around 100 words, getting all the relevant points across. This would also include a summary strapline that could encompass the key value for each pillar. They also needed to reach different audiences, from potential residents and families to internal staff.
 As a team, PCT had a lot of information on all these areas. But it was almost too much for them to tackle decisively. Recognising this, PCT approached Brand Biscuit project lead, Christina, for help. She then came to me to take the information they provided, refine it, and write each summary statement, using simple language to make it easy to read and understand by all.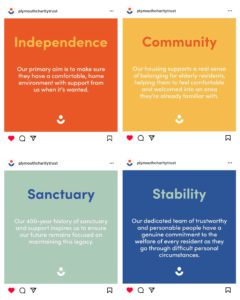 Plymouth Charity Trust Website
Once approved, and before the new site went live, PCT shared some teasers on their Instagram feed. The images showed the new logo and brand identity concept, but also a snippet from each pillar. [Click image for larger version 👉🏼]
The final set of copy gives a bite-sized, inspirational, and empathetic overview of each foundational value of PCT. Given their own page on the website, the intros and straplines were also added to the home page. Each pillar can also be used independently for offline marketing or advertising or digital marketing and social media.
---
Charity Copywriting With DropCapCopy
Are you a design agency or a charity organisation? If you need charity copywriting for your organisation, contact me or email me at write@dropcapcopy.com today. I specialise in creative website copywriting and content marketing alongside online and printed sales brochures.