New to being a freelancer? Need some help from people who have 'been there, done that'? Luckily, there's plenty of recommended books out there to help you through, whatever your profession. Here's my pick of 7 of the best essential books every freelancer should read.
Being a relatively experienced freelancer with 5 years of hard labour under my belt (at the time of writing),  you could say I've learned a thing or two. Through a mix of tenacity,  persistence, and eye-opening realities – and a lot of actual work – it's all come together to get me where I am today. But there's been another constant helping me along the journey too – and that's books.
Here's a list of (some of) the books that helped – and still help – me 'be' a freelancer, with added links to buy from Amazon or Hive (if it's in stock, so you can support a much more ethical and tax paying company). Let's get on with it.
7 of the best essential books every freelancer should read.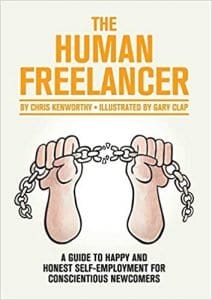 The Human Freelancer | Chris Kenworthy
The Human Freelancer provides a no holds barred, irreverent, and brutally honest look at freelancing. Genuinely hilarious, it's a must-read for freelancing newbs by someone who's been there and done that. From the back cover: "A dark sense of humour and high pain tolerance will also maximise your reading enjoyment." I can't recommend this book highly enough.
Buy it from >>> Amazon or Hive
Brilliant Freelancer | Leif Kendall
Giving you a more in-depth read on getting started, what to do, and how to do it, Brilliant Freelancer is invaluable. Lots of ideas and tips covering pretty much every area, from finding and managing clients to motivating yourself, and keeping track of your finances. However far along the freelancing journey you are, this is a great resource. From the back cover: "Everything you need to take charge of your career."
Buy it from >>> Amazon or Hive
Champagne And Wax Crayons | Ben Tallon
This is a real story charting the highs and lows of Illustrator, Ben Tallon's, journey to becoming the renowned illustrator he's gone on to be. It may be focused on the world of illustration and graphic design, but there are plenty of lessons to be learned for any freelancer here. It's funny, informative, and pretty damn useful – he's endured the pain so you don't have to. From the back cover: "Introduces the real side of the creative industry and what you need to do to make your way to the top."
Buy it from >>> Amazon or Hive
Company of One | Paul Jarvis
If you're already getting ahead of yourself, thinking of exponential growth, hiring a team, and becoming an agency yourself, have a read of Company of One. While you might be jumping ahead of yourself depending on where you are on the freelance journey, this is a good reminder that sometimes, bigger isn't always better. Staying small could help you – and your clients. From the back cover: "How remaining small can provide the freedom to pursue more meaningful pleasures in life."
Buy it from >>> Amazon or Hive
Survival Skills For Freelancers | Sarah Townsend
I've heard and read the phrase "I wish this book was around when I went freelance". And in the case of this book, it's true. Stuffed with home truths, freelance realities, and practical advice to make the most of your freelance career, it will help you survive and thrive – without neglecting your mental health and burning out. It's a go-to book that every freelancer should have on their desk. Essential reading. From the back cover: "Guides you through the highs and lows all freelancers face."
Buy it from >>> Amazon
Anti-Sell | Steve Morgan
Your decision to go freelance was the first step. Getting some clients is the crucial second step – and that can be hard. As freelancers, putting ourselves out there and selling ourselves and our services can be uncomfortable, nerve-wracking, and stressful. Luckily, Steve Morgan's got a lot of tips and tricks on marketing and lead generation, and how the best way to sell, is not to sell. Yup. And he tells you how it works, why it works – and how to do it. An enlightening read.
Buy it from >>> Amazon
F**k It – Do What You Love | John C. Parkin
There's plenty of us who have leapt a freelance career because we love what we do. That's why we do it. For others, it's not as easy. While they've found something they love to do, taking that next step can be problematic, and understandably so.  While 'F**k It' isn't about starting as a freelancer, it's invaluable in teaching you how to ditch anything that's making you unhappy and make the change that matters. From the back cover: "This is not a book. It's a call to action."
Buy it from >>> Amazon or Hive
I'll no doubt be adding to this list as and when any new books come along that are particularly useful, but for now, it's 7 of the best essential books every freelancer should read.
Other useful books
While the previous seven books will help you if you're thinking about going freelance or you've just started as a freelancer, my next three recommendations are a bit more general. Three different books covering three separate areas to help you in three distinct ways.
Feck Perfuction | James Victore
Victore is a renowned artist and designer. In this, his second book, he teaches you how to get started, find your voice, overcome your fears, and take action – whatever you want to do in your creative career. The only thing stopping you is you. Bold, brash, and inspirational, this one takes no prisoners. Well worth buying.  Buy it from >>> Amazon or Hive
Instant Networking | Stefan Thomas
Networking isn't for everyone, but when you work for yourself, it has to be. In 'Instant Networking', Thomas shows you how to look beyond early morning networking events to find opportunities and make networking part of your everyday routine on screen and in real life. Full of good advice and actionable tips that will help you.  Buy it from >>> Amazon or Hive
Making Your Website Work | Gill Andrews
If you've got a website for your business, but you're not particularly web-savvy (like me), then this book will give you all the help you need to make your site look great. Or as Gill puts it "your shortcut to a website that works". A genuinely helpful resource of 100 easy to read chapters, full of hints, tips, and actionable tweaks you can make yourself. No experience necessary. Highly recommended. Buy it from >>> Amazon
And if you're a freelance copywriter…
My final three books don't really need an introduction or any kind of review. Hell, I'm not even showing you any cover artwork so you know what they look like. Trust me when I say, if you're a freelance copywriter – whether you're an old hand or, particularly, if you're just starting out in the crazy world of copy – you need this trilogy on your shelves or on your desk. Gold lies within.
The Art of The Click | Glenn Fisher
Buy it from >>> Amazon or Hive
Copywriting Made Simple | Tom Albrighton
Buy it from >>> Amazon or Hive
How To Write Better Copy | Steve Harrison
Buy it from >>> Amazon or Hive
If you are just starting out as a freelance copywriter (or in any other profession), then make sure you read my post on how to start your freelancing career with no experience. It should prove as indispensable as this reading list. But if you have any other books you think ought to make this list, let me know.