Would you trust this man? The evidence overwhelmingly suggests that, yes – actually you should. For your copywriting at least. And that's because I've had the pleasure of winning the award for Most Trusted Freelance Copywriter 2019 (Devon) from SME News. If that doesn't sway you, I don't know what will.
Building trust with consistency
When you're a freelancer in any area of work, trust plays a big part in your role. Your client is trusting you to deliver on your service (copywriting, photography, illustration, whatever). They're trusting you to make their lives easier. They're trusting you to make their own clients lives easier.
Trust works both ways of course. But even with a signed contract and paid deposit, trust in any freelancer to deliver is absolute.
Over the years of my own freelance career, trust-building has been a major feature of the process. Even now, when certain clients – those that have been working with me for any length of time – say "I trust you", it can almost get downplayed as a throwaway comment said with a knowing smile.
But it's much bigger than that. They're telling me – literally – they trust me to write content that works for them. They trust that I 'get them'. They trust that I 'get their customers'. And they trust that I'll nail their 'style'.
And building that trust comes with consistency.
Where being a trusted copywriter gets you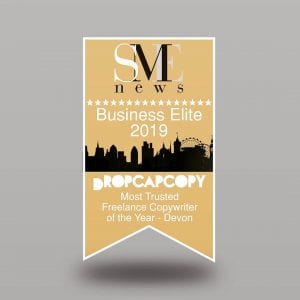 At the tail end of August, late one afternoon, an email pinged into my inbox. Having a subject line of "DropCapCopy – Most Trusted Freelance Copywriter of the Year, 2019 – Devon", it was the kind of email that I felt compelled to open.
So while the irresistible subject line got me hooked to open it up, the first line inside reeled me in straightaway:
"Hi, Graeme,
I'm delighted to let you know that DropCapCopy is a recipient within the SME News 2019 Business Elite and you've been recognised as 'Most Trusted Freelance Copywriter of the Year, 2019 – Devon'"
What would your reaction to that be? Thrilled? Happy? Excited? All natural reactions for something like that. Me? I was sceptical at best. Call me an old cynic, but on first reading, I thought it was spam.
After chatting to SME News, I discovered this wasn't all an elaborate hoax. They confirmed I was, indeed, selected as the winner of the 'Most Trusted Freelance Copywriter of the Year, 2019 – Devon' award for 2019.
To reward and promote talent
I'm not sure of the criteria of the awards as it's all done behind the scenes. But here's a snippet from the SME News email that explains more:
"Following on from the success of our 2018 program, we're looking to celebrate those enterprises who consistently provide the best services and products for their clients, allowing them to stand out within their representative fields."
"Our Business Elite program is formulated on the back of months of qualitative and quantitative research undertaken by our in-house research team here at the publication. This tried and tested method ensures that all our representatives are awarded on strictly a merit basis, rather than on popularity and provides us with the chance to reward and promote talent."
Acknowledgement and recognition
While I've never won an award for my work or business before, my intent is just to do what I do and do it well: writing good copy that works for my clients and their own customers. Making each sentence readable, engaging, and compelling.
I don't write copy with the intention of getting awards, but to receive recognition for such an important aspect of any business is somewhat humbling – and worth shouting about.
Now I've got your attention, why not check out my copywriting services to see how I can help you and your business and become your trusted copywriter? Contact me today and let's get started.