One of the most important things about the freelance life (or any other business for that matter), is bolstering the client list. We all need clients to survive and want our metaphorical Rolodexes to be stuffed full of them, all emailing and calling in need of our services.
That's the idea anyway. The reality can be something quite different. Getting and retaining clients is one of the hardest things to master, especially for an aspiring freelancer. The task is even harder—and more daunting—if you're not a natural extrovert. So, what do you do? Well, it's pretty simple really:
You need to get out there!
Get yourself into the real world. Meet real people who can instantly turn into potential clients. Meet real people who can refer you to other real people. And to do that, you need to network, baby!
Feel the fear
Yep. N-E-T-W-O-R-K-I-N-G.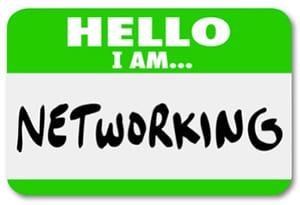 10 letters and one word that can strike fear into the heart of any freelancer or anyone who enjoys the safety of their fortress of solitude, aka: the home office. The very thought of the strangers, the schmooze, the sales pitch, it all adds up to one thing: The Fear.
"What do I do?" "What do I say?" "How does it work?" "I hate talking about myself". All these statements—and more— are played on repeat on our internal jukebox. And it isn't easy – take it from one who knows. But, it doesn't need to be this way…
To network or not work
When I first started going to networking events back in 2015, I had NO CLUE what to do or really what to say. All I really knew was that I needed to sow the seeds and get my name and brand out there. Apart from that, I just swooped in on a wing and a prayer (which, by the way, isn't a good idea!). I probably didn't come across very well, but I think I did OK.
Over the next 12 months, I learnt a lot. What to say and do, how to act and generally be comfortable with myself in a networking situation. If you're nervous or just new to the whole networking thing, here are four networking tips that I found to be really helpful (some are more obvious than others) that may help you on your way:
Networking tips
1). The research
Networking events will almost always have an attendee list available. If you don't see one, ask the organiser for it. When you get it, make a note of people you'd like to do business with or just have a conversation with. Visit their website, find out about them and ask them about themselves and their business.
Also, find out about the actual event: when does it start? (quite important), Is there a guest speaker? Are there refreshments? Is there a set schedule, or is it a mingling free for all? Finding out as much as you can beforehand will give you more confidence when you walk in.
Top Tip: Arrive 15 minutes early when fewer people are there – it's a good time to connect and get you used to approaching other networkers.

2). The confidence
Even if you're not feeling it, self-confidence is the best outfit – rock it and own it. There are probably lots of other people in that room who feel exactly the same way, so what better way to break the ice than to launch yourself into a conversation? Just say 'Hello', ask plenty of questions and listen to what they say. Remember, it's not about selling to them, but what you can do to help them.
Top Tip: Be approachable and SMILE
3). The pitch
Some events have a 30 or 40-second round to introduce yourself and explain what you do. You need to come up with this – it's a pretty important thing to have. Write it out in advance and learn it – maybe even a week or so before the event to allow time to edit and refine it – so you know what to say. When I first did a 40-second intro round, I was nervous as hell (I'm a writer, not a speaker!), so I printed it out and read it. Guess what? No one cared that I did that, but I got the info about me and my business across and it saved me the embarrassment of fluffing the whole thing and looking like a dope.
Top Tip: Learn some key facts from your 40-second intro. You can tell people what you do, quickly and succinctly if, and when, they ask.
4). The Follow Up
Once you've seen the people you wanted to see, met lots of new contacts, exchanged business cards or connected on LinkedIn, and finally relaxed, you need to work on your follow-up. Firstly, read this out loud: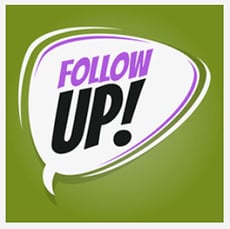 "It's up to me to make sure people know I exist. It's not up to them to remember me."
So, that batch of business cards you collected at your networking event – keep them close to hand or record ALL their details in a spreadsheet – whatever works for you. Go to their LinkedIn profiles and connect with them. Chances are, they'll accept your invitation. Sometimes, they may ask to connect with you first, so quickly accept.
Check out their Twitter and Facebook pages. Follow them. Like them. See what content they have on those pages (and LinkedIn too) and comment and share. It's all about connecting and engaging. Most importantly, if you talked about setting up a meeting with a particular contact, then make it a priority to call them and set it up.
One more thing…
Networking is all about conversations and getting to know people. You might walk into an event thinking you'll get loads of work, but you might not get anything. It may take 2 or 3 events or more before anything happens at all, but keep engaging and keep connecting. Persevere – it's all good and worthwhile practice.
People know people who know people. Your name can crop up in a conversation somewhere, and an email will ping into your inbox saying you've been referred to them by someone else. And that 'someone else' might be someone you met 6 months ago at an event you thought might not be worthwhile. Bet you're glad you went now!
There's a ton of networking events going on every day. Just Google 'networking events [your location]' and you'll get a lot of results back. Pick one, pick three, pick five. Go along and experience them. Some might be free and some you'll need to pay for (though they're usually fairly cheap and – hey – it's tax-deductible!).
Remember, at any networking event, lots of people will be in the same boat as you. But those who are more experienced in networking and the event organisers will be welcoming and interested in what you have to say. So just get out there – it's good for you and your business. And it's not as scary as you might think.
Books, links, and resources
Check out the Chamber of Commerce. They often run 'Meet The Chamber' events for members and non-members and are free to attend. If you do join your local Chamber, then there are lots of opportunities to network at events throughout the year.
Look out for any 'LinkedIn Local' events near you by searching '#LinkedinLocal' on the LinkedIn page. Many of these events are held in the morning or early evening with the aim of putting faces to the names in your network. Once you're there, you can immediately connect with new contacts by using the 'Find Nearby' tool on the LinkedIn app on your smartphone.
For B-I-G tips on networking, read Instant Networking by Stefan Thomas. It's a really easy read with loads of good, valuable information, and actionable tips. For a quick review of this book and a few others which may help you if you're new to freelancing, read about 7 of the best essential books every freelancer should read.
If you're on Twitter and Instagram (or Facebook) which, of course, you should be, keep an eye on your feeds or put a shout-out to your followers asking for recommendations on networking events. You could also search 'networking' on Eventbrite too. The results will show paid events but will include free ones as well.
New to networking? Let me know what you think and if this blog has helped you, and share it using the buttons below.