Every now and again, your Twitter feed can suddenly be doused with tweets involving a certain hashtag asking you to '#MakeAComedyScary' or '#RuinAWeddingIn5Words'—the usual trivial phooey that keeps the tweet elite's creative juices flowing.
It's just another weird and wonderful internet phenomenon that usually lasts for about 48 hours before it disappears and is forgotten as quickly as it appeared.

The latest hashtag tweetathon was '#FirstSevenJobs' that appeared last week. I don't know the significance of why it's 'my first seven jobs' – presumably because we usually start off just doing something for money, before moving on up to the dream job (possibly). So, here are my first seven jobs:
My first seven jobs
Grass Cutter
I was in charge of a petrol mower at the tender age of (about) 13 . Yes, I had the unenviable task of keeping the local vicarage lawns trimmed (back and front – and they were big). I can't remember the wage – probably very underpaid (but I was still at school), and it was the first taste of my own money. Low point? Inadvertently removing the oil cap whilst the mower was still running. Warm oil turning me into a human Pollock. All in front of a double-decker bus full of people. Sigh…
Waiter
High-class swanky time, oh yes. Still at school, but more money than mowing lawns. Probably highly illegal child labour, but it was the mid 80's, so I'm sure we can gloss over that. Starting at 7.00 pm until well past 11.00 pm on a school night (that's the illegal bit), coming home stinking of kitchens. Not ideal, but it did give me the means to start buying records. A trait I haven't yet managed to shift some 35+ years later. I did, however, learn the forgotten art of silver service, which I sometimes try at home even now with mixed results.
Printer
First proper job time. A 16-year-old me, fresh out of secondary school and onto a YTS scheme (remember them?) at a printing firm. Not really what I'd envisaged, but it was half a shot at some proper money, allowing me to move up a rung on the musical ladder: going to gigs and just going out in general. It did, however, set me on the path that would shape the rest of my working life (apart from job #4 below).

Cashier
Extra cash time. Standing (or occasionally sitting) at the till in the music section of a high street store for a short stint of Christmas temp work. A spiritual home? Hmmm… I don't think so. It was in the throes of Britpop, so at least there was some half-decent music filtering through the system. However, over-changing (in error) and blindly accepting every gift voucher under the sun eventually led to this temp job coming to an end. Low point? A 40-something customer cheerfully telling this, then 24-year-old, "I used to have a haircut like that!" as he pointed to my best Keith Richards self-made thatch. A new low…
Mac Artworker
Before the days when the term 'graphic designer' took over, a Mac artworker took care of business. Using 'page layout software', I created everything from business cards to full-colour brochures. The happy days of Mac OS 7, QuarkXpress 3.3, Photoshop 4, massive scanners, and even bigger monitors. When 32Mb (that's MEGAbytes) of RAM was considered 'high end' and SCSI cables thwarted our every daisy chain of peripheral connections. All good on this job, as it was the first step in teaching me everything I know.
Self-employed Design & Print Business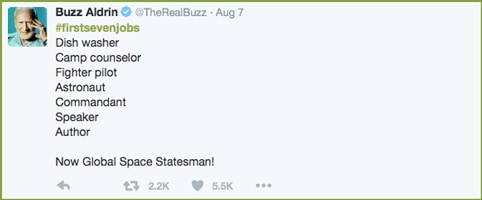 Yes, my previous role segued unsuspectingly into this one. My then boss decided he wanted to sell up and gave me first refusal on buying him out. Well, what can a poor boy do? I took over with aplomb. The Macs got smaller (relatively), the monitors got thinner (just about), more RAM was required, and the software got that bit better. However, with the advent of 'dotcom' businesses setting up and taking print online at ridiculously low costs, it was time to get a proper job…
Graphic Designer & Beyond
10 years in a marketing team with the same company saw me span the worlds of graphic design, social media and middle management. 'Mac Artworker' led to a name change to 'Graphic Designer' and – as the team grew – the chance to bring on board a second Graphic Designer. This, ultimately, led me to the dangling carrot of Assistant Manager. I was given more of an 'overview' role, taking in all aspects of marketing and learning a whole lot along the way. Interior design, photography, web and digital marketing, social media and, of course, content and copywriting: blogs, web copy, brochure copy, editorial, sales emails, and letters.
All of which led me here: a freelance copywriter. Writing words that sell to help businesses reach their goals through persuasive and engaging copy. Let me know about your next project, and let's get your content working for you.